Archoil AR9100 Oil Additive (cured my stiction problem)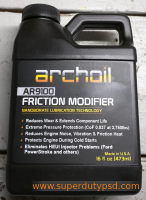 Last winter, my truck began losing power when I would start it and take off on a cold day. It was very worrying the first time it happened. I was going about 45 miles per hour when I suddenly lost all power. There was sort of a hissing sound as well. I didn't know what the heck was going on. I couldn't even tell whether it was the motor or the transmission. I let off the gas and waited a second, and the power came back. The same thing happened a couple more times that winter - always when the truck was cold, and within a few minutes of starting it.
This winter (2015/2016), my truck began doing this pretty much every morning. The hissing and loss of power would come and go every day on my way to work. Once my engine oil temperature would reach around 160 degrees, the problem would go away. I decided that it was time to figure out what was going on. I searched for Powerstroke hissing and loss of power, and this led me to a lot of posts about stiction. Most of the posts related to 6.0 Powerstroke diesels. Apparently, this is a pretty big problem with the 6.0's but can occur on any HEUI (hydraulically activated, electronically controlled, unit injector) fuel system. Of course, my 7.3L Powerstroke diesel is an HEUI system, and seemed to have the stiction problem. Many of the 6.0 guys recommended using Archoil AR9100 engine oil friction modifier. While I had never before used an engine oil additive, I figured that with all the great reviews, it might be worth a try.
I ordered 16 ounces of Archoil AR9100 friction modifier from amazon.com. The reviews on amazon were great, reinforcing what I'd read elsewhere. I drained the oil on my truck but only put 14.5 quarts of Rotella 15W-40 back in to account for the extra 16 oz. of additive (the truck takes 15 qts). After the oil change, I went on a 23 mile drive to work in the oil additive. I didn't plug in my truck that night so that my truck would be good and cold the following morning when I would leave for work. It got down to about 27 degrees that night, so it was a good test for the additive. On my way to work, I still had the stiction issue, but the frequency and severity of the power loss and hissing was dramatically reduced. I put about 60 more miles on the truck that day and left my truck unplugged again so that it would be cold the next morning. The next morning, the stiction issue was 100% gone. It took about 80 miles of driving for the Archoil AR9100 to work its magic. The truck also seemed to be a bit smoother and quieter, but that is hard to quantify and could be placebo. It certainly took care of the stiction issue though.
My truck has the original injectors with 174,000 miles on them. I will continue to use the additive and would wholeheartedly recommend it to anyone. I would use it now even if I had never experienced the stiction problem. I only have about 150 miles using the additive at the time of this review, so I can't comment on any long term benefits. I am in no way affiliated with Archoil, this is just my honest opinion. If you purchase the product using the amazon link I provided, I do receive a small commission from amazon (and I'd be grateful!). I am only sharing this because the additive worked so well. Archoil also makes a fuel additive but I have not tried it - though I may in the future. This concludes my review of the product, but I will update it later if my opinion changes or there are other related developments.