Crimestopper SP-502 Remote/Alarm Installation for 2000 Ford F250 Superduty, 7.3L Powerstoke Diesel
Below is the wiring diagram I drew up for my install and some pictures showing the wire locations. The wiring diagram is in schematic form. This unit has a lot of features. It includes remote start, turbo timer, remote entry (with separate driver's door unlock), passive starter disable/anti-grind, and dome light supervision. The alarm includes the usual door supervision and shock sensor options and also has 2 way paging so I will be notified on the remote if something nefarious is going on. To utilize all the features, I needed to purchase one extra Crimestopper SP-502 alarm, keyless entry and remote start system.
Application and References Details
** Truck already had remote keyless entry (factory system quite working)
** Truck wiring connections are shaded green
** Relay connections are shaded blue
** Wires with a red "X" were not used in this installation
** C218 references the Ford manual plug designation for the gray molex plug
** C217 references the Ford manual plug designation for the black molex plug


I drew this schematic for my truck and it works perfectly. If you decide to use the information presented here, you should verify that it is suitable for your application. All wiring should be verified. Use at your own risk. Note that this drawing is in schematic form.
The three images below show how relays and diodes are wired. Also the remote button designatons.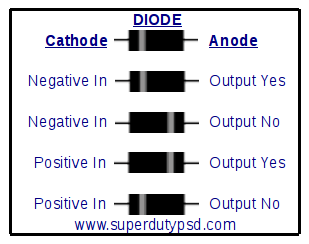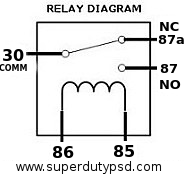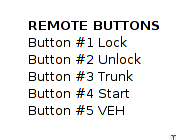 Below are links to tha Crimestopper factory manuals.
Crimestopper SP-502 Installation Manual

Crimestopper SP-502 Owner's Manual


Alarm/Remote Start Install (at the end of this page the wiring is laid out in table form)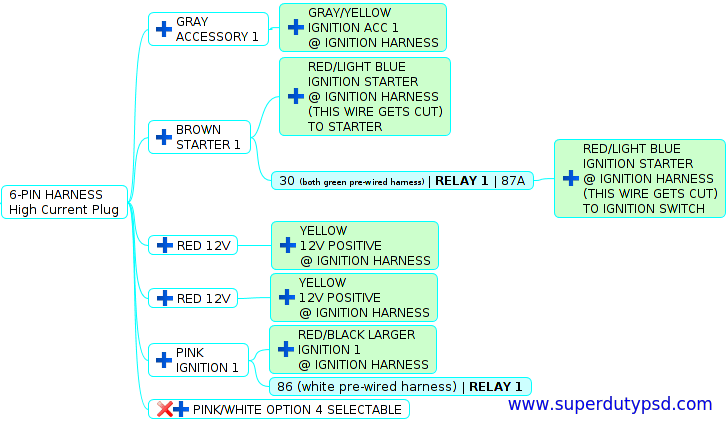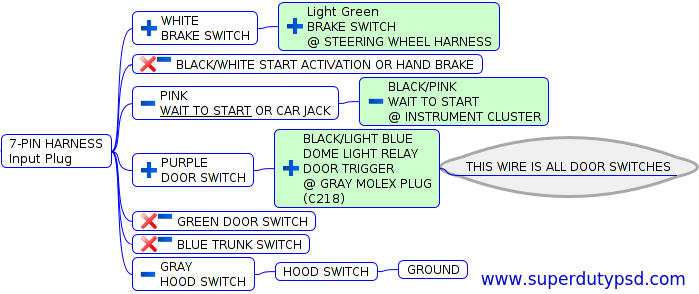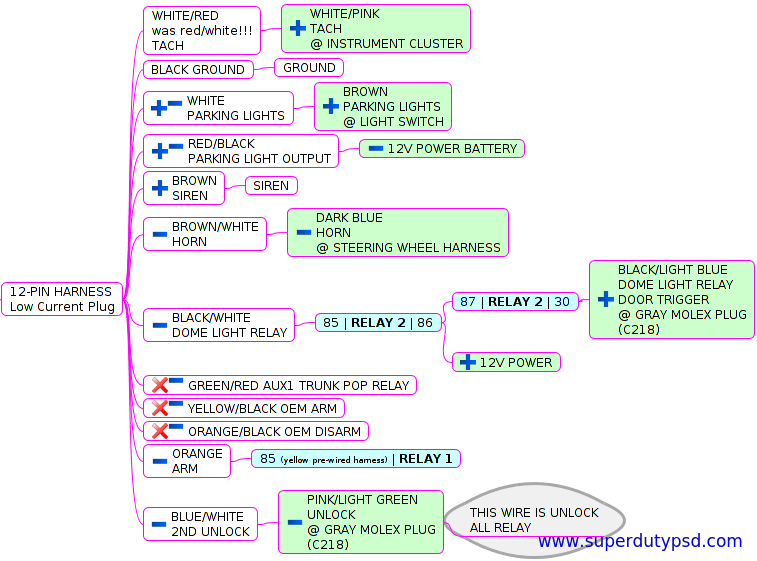 Location of most wires: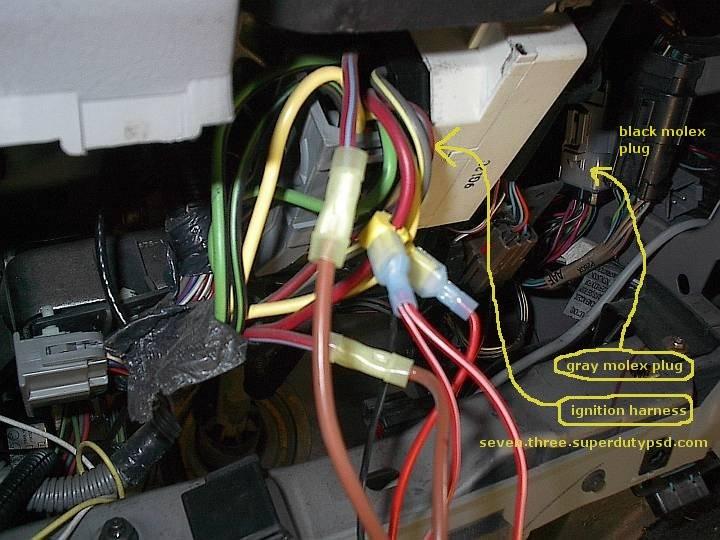 Location of tach and wait to start wires:
Use caution when taking the instrument cluster out.
You will need to remove the transmission indicator ware from the steering column.
Note that some remote start makes do not deal well with Ford's wait to start circuit so a time delay is needed.
The Crimestopper worked just fine with the WTS circuit, no diodes needed.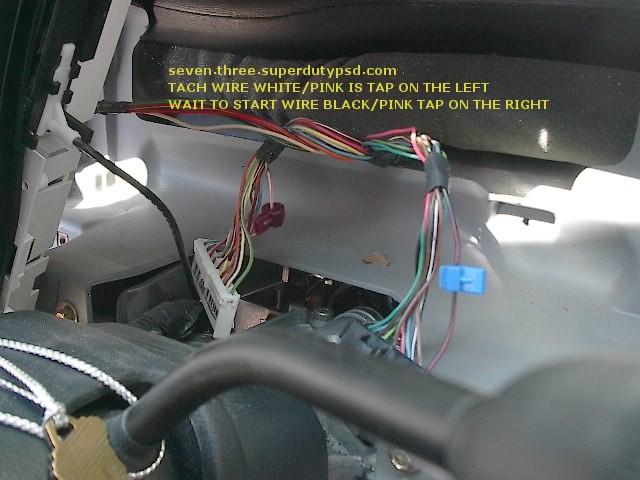 Location of parking light wire: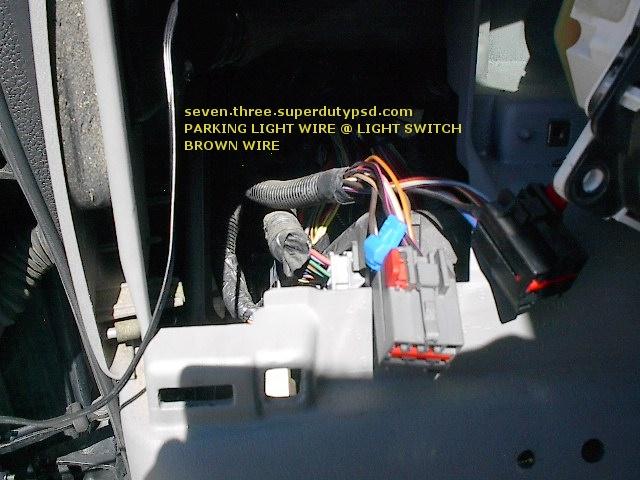 Location of brake wire: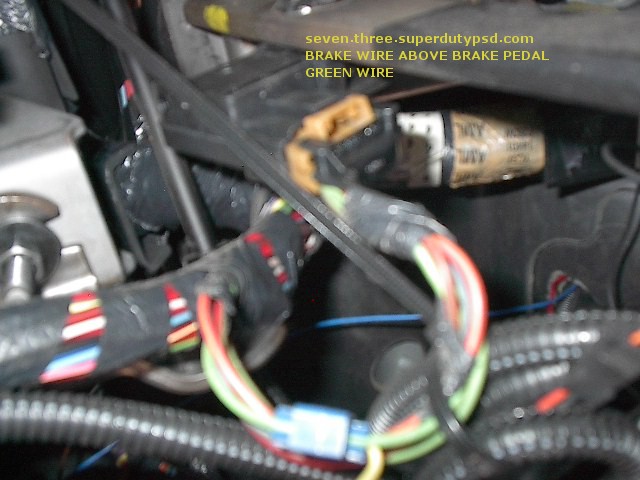 Wiring Diagram In Table Format
Harness
Harness Wire Color/Function
Wiring Connections
6-pin-harness
pink/white ignition 2
NOT USED
pink ignition
+ red/black larger @ ignition harness
Relay 1 terminal 86
red 12V positive
+ yellow @ ignition harness
red 12V positive
+ yellow @ ignition harness
gray acc
+ gray/yellow @ ignition harness
brown starter
+ red/light blue @ ignition harness (this wire gets hot) to starter
Relay 1 terminal 30 - to - relay 1 terminal 87A
Red/light blue @ ignition harness (this wire is cut) to ignition switch
12-pin-harness
white parking lights
+ brown @ light switch
black
ground
white/red tach
white/pink @ instrument cluster
orange/black (-) oem disarm
NOT USED
orange (-) starter disable relay coil
Relay 1 terminal 85
blue/white (-) passenger unlock
truck pink/light green @ gray molex plug
blue/black (-) ignition or aux #2
NOT USED
green/red (-) aux #1
NOT USED
black/white (-) dome light
Relay 2 terminal 85 - to - relay 2 terminal 86
Relay 2 terminal 87 - to - relay 2 terminal 30
black/light blue @ gray molex plug
12V (+) power
brown/white (-) horn
dark blue @ steering wheel harness
brown (-) siren
siren
green (-) turbo timer
momentary switch (no)
ground
7-pin-harness
White (+) brake pedal reset
Light green @ brake pedal
Pink (-/+) glow plug
black/pink (-) @ instrument cluster
gray (-) hood switch
hood switch
ground
green (-) door switch
NOT USED
purple (-) door switch
black/light blue @ gray molex plug
Blue (-) trunk switch
NOT USED
black/white (-) start or hand brake
NOT USED
4-pin-harness
not used
NOT USED
blue/orange (-) start output
NOT USED
violet/white (-) aux #3
NOT USED
green/white (-) aux #4
NOT USED
3-pin-harness-2
green (-) lock/(+) unlock
diode
pink/yellow @ gray molex plug
Red (+) for relays
NOT USED
Blue (-) unlock/(+) lock
diode
violet/light blue @ black molex plug next to gray molex plug






















KEY






NOT USED








TRUCK WIRING








RELAY WIRING








SYSTEM COMPONENT